NX for Manufacturing
With NX for Manufacturing, Siemens PLM Software continues to help you make the right product, right the first time. Enhancements across the solution set drive productivity and quality improvements that make a difference to your business.
NX CAM Increases NC Programming Productivity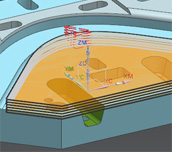 NX for Manufacturing delivers the next level of NC programming productivity with specialized, industry-specific capabilities in NX CAM.
New operation types and expanded feature-based automation simplifies the creation of efficient tool paths for machinery and heavy equipment parts. You can reduce excess machine motion for complex 5-axis turbine components with new roughing and finishing operations, and eliminate extra machining steps for molds and dies with new blended semi-finishing and finishing strategies.
Additionally, you can find tools faster and easily manage your complete library of 3D cutting tool assemblies and manufacturing resources with the new Manufacturing Resource Library.
A Complete CMM Inspection Programming and Results Analysis Solution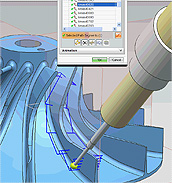 NX for Manufacturing helps you maximize the efficiency of your complete quality inspection process with the enhanced offline programming and new inspection results analysis capabilities.
By working in the context of a 3D solid model environment to define scans that include multiple features, you can program complex parts faster and more accurately. Programming time can be reduced by as much as 80 percent by using PMI (product and manufacturing information) on the model to automatically generate programs. Using the enhanced 3D CMM simulation to verify and preview scans, you can ensure programs are collision-free. You can also visualize the best approach to improve part quality by analyzing CMM measurements directly on the 3D part in NX.
CAM Data Management Made Easy with NX for Manufacturing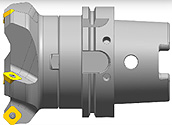 Find and use the optimum cutting tools for a job using the new Manufacturing Resource Library to manage tooling vendor catalogs and preferred tool assemblies, as well as your custom resources. You can also load the resources directly into NC programs, machine tool simulations, and shop documentation.
Shop Floor Connect for Teamcenter helps you ensure that manufacturing data is secure and the plan-to-production process is controlled. Machine operators can directly access production release data (CNC programs, tool lists, set up sheets, drawings) in Teamcenter and deliver the files to machine controllers.